Moles are skilled at extracting soil, which they then deposit on the surface in distinctive "molehills." But these tunnels aren't merely a series of ground-level openings. Moles also construct specialized spaces within their complex, including sleeping quarters and delivery rooms.Due to how moles live underground for so much of their life, they are on the list of rarely studied animals.  Our company prides itself on our knowledge of moles, how they hunt for food, how they dig their homes deep underground and how much moles love to use your yard as an all they can eat buffet. 

Roger had us out to his home and here is a statement he made about his service, "These stupid moles were plowing up my grass that I just planted two years ago. I tried everything to get rid of them. Finally gave up and got a professional to deal with them. Spencer knows just how to find and eliminate those evil little bulldozers. What a relief! I highly recommend this company! Our yard is going to be beautiful this summer!"
Mole Exterminator Centralia
Our business is locally based, veteran owned and family operated.  Our expert technicians are both from the Pierce County area, having grown up in Buckley and Enumclaw.  We build our business model around our knowledge and expertise of dealing with moles.  No longer will a homeowner need to go and put down sharp and spring loaded traps, poisons that pets and children can eat or even digging up large swaths of yard to find a mole.  Use the team that was built for tracking and hunting moles.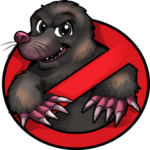 Mole Exterminator Centralia
Part of what we do is to exterminate moles that have come into your yard.  We have done research and have over 15 years of experience in tracking, trapping and catching moles.  We have traps that are humane and do not have any harmful chemicals that can damage you, your yard or your family.  If you have any questions, give us a call and speak with one of our highly trained customer service representatives to go over anything you might need or want to know about helping to make your yard mole free.