Mole Trapping Bonney Lake
If you think your property in beautiful Bonnie Lake has been invaded by moles, the very first thing you should do is give us a call.  We have highly trained Customer Service Representatives who can answer many of your questions and ask questions you did not think to ask.  The reason why we decided to have our Customer Service Representatives be the first line of defense is for exactly why you would think; Saving your time as the home or property owner as well as making sure that our services are what you need.  Once we have covered everything over the phone and we are the right extermination company to get rid of your moles, we will have one of our trained technicians out to do a walk of your property.  With the information we had previously collected and our survey of the property, we will put together a plan to help keep your property mole free.  Without toxins or chemicals, we have mastered the humane art of finding and trapping moles to remove them from your property.  
It is a common misconception that moles eat their way through your yard and garden.  The tunnel that they build can cause damage to a root system from the moles' shovel-like paws cutting through them and by disrupting the ground underneath your foliage.  Oftentimes, other critters and bugs can get into the mole tunnel system and wreak havoc on any roots that have been exposed.  Moles are actually  omnivores, as they typically do not eat the roots of plants and grass.  Moles are typically after ground dwelling insects and some forms of fungi.
Mole Exterminator Bonney Lake
Tucked in nicely on the north side of Pierce County, Got Moles is your friendly and local mole exterminator.  Several members of our staff hail from the area and have driven 410 more than they can count.  If you think you have moles in your yard, call the local team that has certified technicians that know the greater landscape of Bonney Lake and can help to keep your property mole free.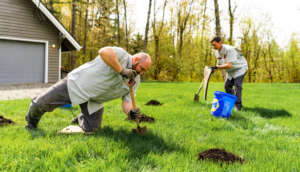 Mole Exterminator Bonney Lake
After visiting Megan's home, she had this to say about the professional mole catchers, "We had a mole we just couldn't get ourselves and it was wreaking havoc all over our yard. They were able to get two moles by putting traps in a strategic position. I would definitely hire again!"