We are a locally owned and operated company. When we say local, we really mean it. Growing up in Enumclaw and Buckley, our team of trained technicians and customer service representatives would love to show you how we can make your yard mole free. The expert mole trappers will come and build a custom plan to help keep your house and your property safe from Mole. No toxic chemicals, poisons or traps designed to impale moles will be used on your property. The methods we use started as steps that we took to protect our home and families from moles.
Give us a call and talk to one of our friendly customer service representatives who will go over some questions about your property and if it sounds like you have got moles, we can set up a time to have a technician come to your home and give you an assessment.
Michael had us out to his property and had this to say about us, "Got moles? Well you won't after you hire this guy. He did great and is very nice."
Mole Exterminator Enumclaw
One of the things moles can do that can cause serious issues for your home is with sidewalks, driveway and pavers as they burrow undeath them.  In some cases, they can even cause damage to your home's foundation.  And yes, we have caught moles inside of the crawlspace under their home.  Call the mole exterminators who can come out and make sure that your property is protected from moles and their complex systems of tunnels that put your yard in danger.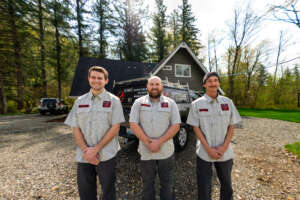 Mole Exterminator Enumclaw
Once winter rolls in and freezes the ground most people assume that moles lay down for their long winter nap.  That however, is not true.  Moles do not hibernate but in fact remain just as active as they do the rest of the year.  Their small but complex tunnel system can burrow down as deep as 3 feet.  Once the ground begins to thaw, the damage can slowly appear as tunnels could collapse once they do not have frozen earth to hold it in place.  That means if you look outside and think you see a small molehill, chances are that you are correct and now you've got moles.  Call the local mole catchers to get one of our friendly technician out to your home to start the process to expel the moles.